SOLOS
(Click on names for more info or simply scroll down the page..)
-In-Between The new long version - VIDEO
-Future Proofed- VIDEO
-My Origins- Video installation / invisible bridges exhibition & book- VIDEO
-Falling- VIDEO
-The Way Home- VIDEO
-nocturnal thoughts
-Trampolina
-In-Between
-From the earth - A memory
-Up You Get
THE KARAVAN ENSEMBLE (press to be taken to our website)
-A Small Museum of Displaced Sea- VIDEO
-Kolbhalle residency & performance- Watch video here
-Anima Outdoors Version- Watch video here
-The Dressing Room - watch VIDEO here
-A Light Through the Night - VIDEO
-A Ship of Fools - watch VIDEO here
COLLABORATIONS & Other COMPANIES
-Equator
-Somnambules & the 7 Deadly Sins- watch VIDEO here
-Trance Europa Express- Watch VIDEO here
-Pupik- Fugue in 2- watch VIDEO here
-Somnambules & the 7 Deadly Sins (1st version)
-Contre-Image - watch VIDEO here
-Love&Tears
-Specthalium
-Ki Me Ra
-Assembly Part-1
-Human forest
-Somnambules
-Fragments from the arch
-ZOO- watch VIDEO here
-Way to the hidden garden
-Bereshit
-The Collector
-Dying laughing
-PickNick (Film) -watch VIDEO here
-Test labor Z.0005
-Migration
-To Love
2015-18
Pupik-Fugue in 2/ a contemporary tale in search of Identity
Is a new visual /physical theatre performance in multiple languages.
Created and performed by Naomi Silman (LUME Teatro) and Yael Karavan (the Karavan Ensemble)
A co-production between award winning companies -Lume Teatro, Brazil and The Karavan Ensemble U.K.
Artistic advisor Ricardo Puccetti.

Pupik – ("navel" in Hebrew) - is the story of an encounter and a unique life-long-distance friendship between two women from similar backgrounds, descendants of a long lineage of ancestral migrants, living a fragmented life of different identities and wandering. Together they tackle some vital contemporary questions about their common paths such as identity, belonging, adaptation, migration, borders, roots and the concept of a Home. They travel through time and space, unveiling the layers of their personal stories and ancestral Backgrounds, tracing a line from the personal to the universal, from microcosm to macrocosm. Consecutively Pupik touches upon an extensive territory common to us all, as it travels through our inner as well as outer landscapes.
The show premiered in Brazil in 2015, where it has toured around the country + in Portugal. Pupik is currently being adapted and translated into English thanks to the support of Arts Council England.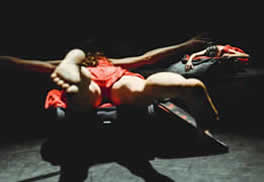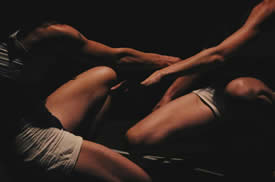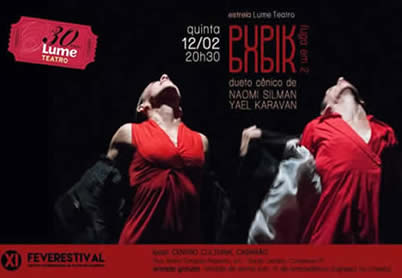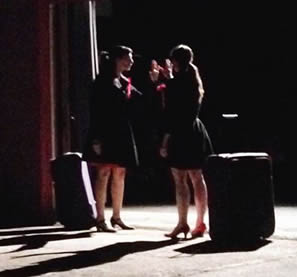 photos by Arthur Amaral, Marina Wang and Mariana Rotili

Stage plan HERE
Promo pack HERE
_____________________
2016 -17
D-Code (Total theatre review press HERE)
Where do you come from? Where's your home? What's in your home? What's in your fridge? D-Code reimagines our perceptions of origins in a globalized, multicultural world.
'I've recently done a DNA test in search of my ancestral origins; the results divided me into quantitative percentages of 24 different countries. This led me to question, where do we really come from?'
Putting a special focus on the heritage we carry from nearly 3million years of being nomads, D-code attempts to decipher the multiple identities that inhabit us and to decode the inner maps within our bodies.
The show responds to an increasingly globalized, multicultural world, where a once stable identity of self through geographical location has become fractured, as more people are becoming hybrids of cultural identities, so how do we construct our sense of self?
Searching for a deeper understanding of our genetic origins, D-Code relates to some of the major themes of my life and our time; immigration, identity, the notion of home, migration, belonging and multiculturalism and questions how these can affect us biologically, socially and physically. Based on a true life story the show is tracing a line between the intimate and personal into the common and universal, as it deciphers the different layers we carry within us by transforms the body into a map with physical & visual theatre, video mapping, multiple verbal languages and a live sound scape.
A 55 minutes solo performance created & performed by Yael Karavan in collaboration with Sound Artist Carl Beukman,
Costumes by- Lucy Bradridge, Video Mapping by Giles Thacker, Light design by Kristina Hjelm.
Supported by Arts Council England, Delloscompiglio Arts centre, Italy and RichMix, London.
PRESS- 'There are so many aspects and individual moments that could be singled out for praise, but it is in the sum of its parts that D-Code holds its power. The rich tapestry of visuals with a strong, but mostly unspoken undercurrent of political and personal crises (and resolution) of identity and global displacement is a pleasure to watch and also provoked sentiments that are beyond words.' Total Theatre
'I've become quite jaded about Brighton performances after seeing a series of disappointing shows over the years, but your show has re-ignited a passion to see more inspiring art. From start to finish it was sensorially immersive and emotionally engaging. the soundscape was always spot-on, the props & costumes often simple but always stunning, I loved the use of all the dimensions of the space - from the creation of the art piece on the floor to the shadows, projections etc covering all the surfaces. The use of light was exceptional.' Audience feedback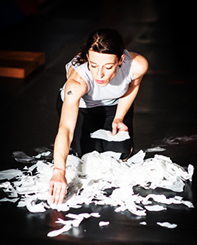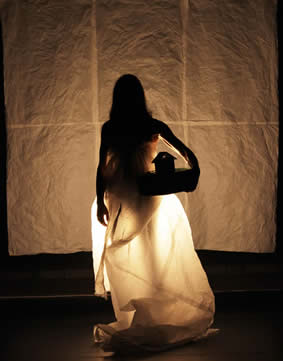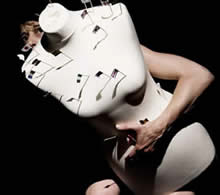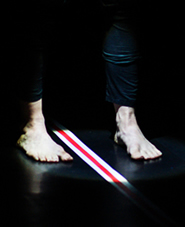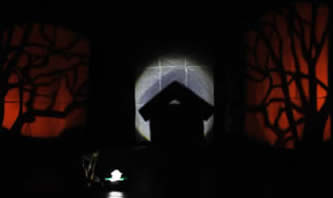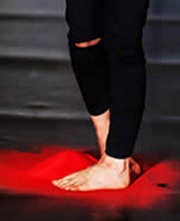 Photos by- Aliche Mollica, Paul Kondritz, Yolanda Y. Liou.

Link to provisory lighting and stage plan (in process)- Here
____________________________________
Equator

A dance theatre performance created and performed by Tanya Khabarova with Yael Karavan.
Commissioned by Delloscompiglio Art Center, Vorno, Italy as part of their gender season- 'Assemblaggi Provvisori'
Equator definition- the great circle on a sphere or heavenly body whose plane is perpendicular to the axis, equidistant everywhere from the two poles of the sphere or heavenly body.
In the beginning there was one, then the one was cut sharply into two, since that fatal action this duality searches forever to reunite, within or without, we carry this eternal split… will we ever reunite?
'The way of love is not a subtle argument. The door there is devastation.
Birds make great sky-circles of their freedom. How do they learn it?
They fall, and falling, they're given wings' Rumi
Music – Lawrence Williams
Light- Jackie Shemesh
Set- Luccia Castellena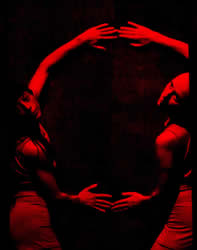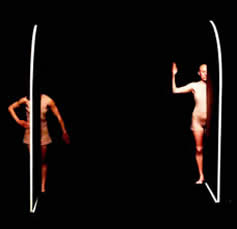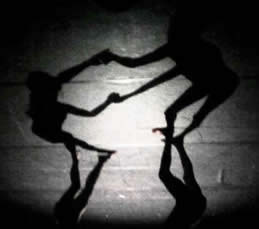 _____________________________________
2013
Somnambules & the 7 Deadly Sins
Welcome to the experiment.
Are you ready? Who's next?
Internationally renowned multiple award-winning performers Tanya Khabarova (Derevo) and Yael Karavan (Karavan Ensemble) invite you on an epic voyage into the mysteries of what we are made of. Travelling between past, present and future, this enigmatic performance transports us through archetypes, icons and life's polarities.
Step into the laboratory for a journey of astonishing imagery, a spectacular feast for the eyes and mind.

Somnambules builds upon the long standing artistic relationship between Karavan and Khabarova. They have been collaborating for over a decade, most notably in the work of eminent physical theatre company Derevo.

Music: Calum Bowen | Light: Mike Bignell and Kristina Hjelm | Costume: Tanya Khabarova and A22 – Anat Zafrir | Photo: Mike Bignell | Graphic design: Studio Sara Popowa.
Supported by Tenuta Dello Scopliglio.
performed in Vorno & Radicondoli Festival, Italy and at Summehall during the Edinburgh Fringe 2013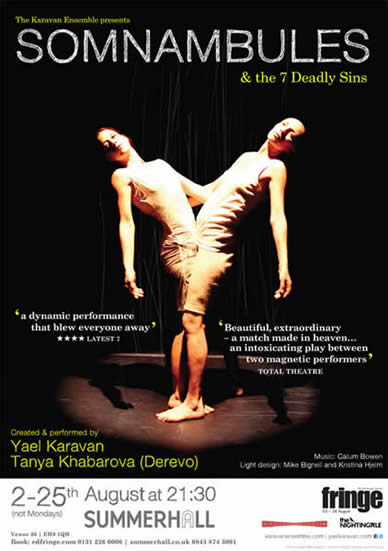 Press for Somnambules @ Edinburgh Fringe:
'There are moments of quit exquisite staging, where the underlying theme of mankind sleepwalking into the destruction of the planet - showcase not just the duo's imaginative vision but their command of physical theatre styles.' The Herald.
'That's the power of Karavan Ensemble's peculiarly brilliant work ... perilous, edgy and exquisitely executed' -Metro
'Visceral and beautiful, powerful and tender, this is a show that makes an impact'
4/5 stars - a Younger Theatre.
'Stunning visuals… bold and compelling' **** – Broadway Baby
'visually captivating… stand out for their originality' – The List 
'so confidently bold and beautiful that this show is a treat.' – Fringe Review Recommended Show
'The visual imagery of this piece is rich and deep. The physical performances are stunning' – Total Theatre
'An impressive, disturbing and beautiful performance' – Three Weeks
'a pretty wild show ... with epic moments' – Lyn Gardner list of what to see in Edinburgh, The Guardian
'5 stars. Firmly in the Derevo stable, this show is wondrous and joyously playful, yet resounds with the greed and horror of human existence. Enjoy!' – Audience review (edfringe.com)
Top 5 Russian related shows to see in Edinburgh. – Russian Art+Culture
Shortlisted for the Sustainability production award
-----------------------------------------------------------------------------------------------------
2012
Live dance, music & painting happening by Tanya Khabarova & Yael Karavan as part of Cosi vicino Cosi lontano Festival in Lauro Rossi Theatre, Macherata, Italy.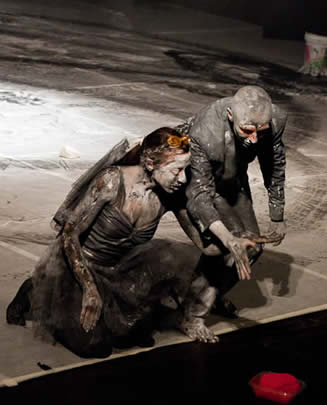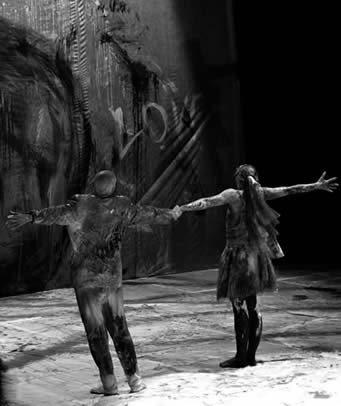 ------------------------------------------------------------------------------------------------
a site responsive performance in collaboration with Bruno Humberto.
Geomancers are a duo of saltimbanques that re-imagine space through physical theatre, music and dance mediations. As they listen to the murmurs that characterize each place, they underline and amplify the invisible and the playfulness that remains attached to each location. performed in various locations in London; Tooting Market, Wandsworh and Brik Box.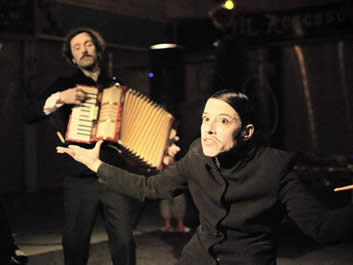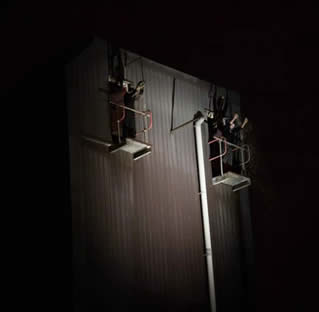 ------------------------------------------------------------------------------------------------
Anima - outdoors version for Coastal Current Festival Hastings.
For the opening of Coastal Currents, Yael Karavan will readapt Anima to the unique landscape surrounding the Stade Open Space with special guest dancer and performer Yumino Seki.
Anima is the award-winning genre-defying performance by the Karavan Ensemble that took last year's Brighton fringe by storm. Combining promenade elements, dance, interactive physical and visual theatre and object animation in a site responsive context the performance is an unforgettable journey into light, darkness and human nature with a special focus on the light we humans emanate from within and thus corresponding to, reflecting and mirroring the universe, stars and constellations.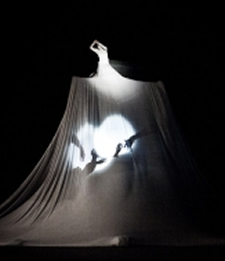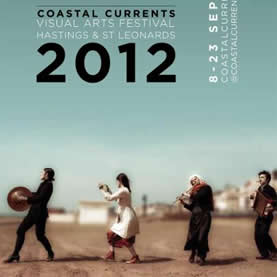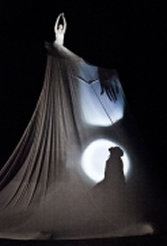 -------------------------------------------------------------------------------------------
A Small Museum of Displaced Sea- Commissioned by multiple award winning project Dip Your Toe for Brighton Fringe 2012
The Karavan Ensemble is thrilled to embark on a new journey, carrying the sea across Brighton in a reconstructed transient Bathing Machine. Working with older people from the South East recollecting their memoires between coast and sea, past and present, our migrating performance carries the sea within. A travelling museum of a displaced sea immersed with dance, physical theatre, live music and recorded stories in a site responsive performance reminiscent of a time travelling machine... Created in collaboration with older people dance project- Dance in the years run by Linda Remahl and Rachel Champion and the Saint Richards Evergreens older people club in Hollingdean. The project includes an audio visual installation, made in collaboration with Tristan Shorr, and an outdoor performance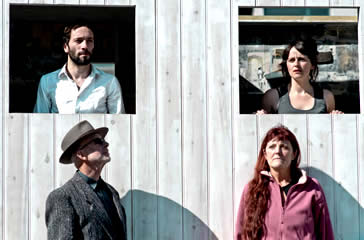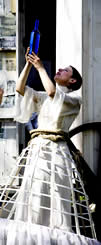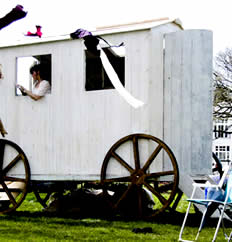 pics by Poul Kondritz and Sara Popowa
------------------------------------------------------
My Origins- a video istallation ispired by Xelis De Toro poem for the Book of invisible bridges, commissioned by BcatoMouth
Two Variants of the parable of te wayfarer and his shoes- by Xelis De Toro
...I RETRACED MY SEPS
TO REACH MY ORIGINES...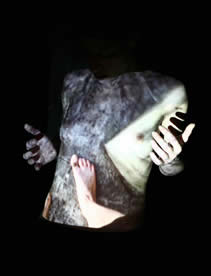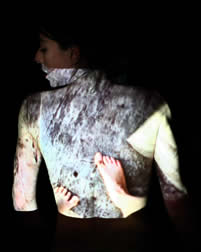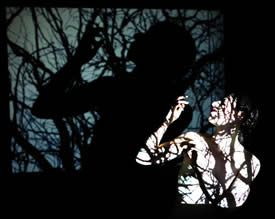 -------------------------------------------------------------
Somnambules &The 7 Deadly Sins
A Dance Theatre Performance Created and performed by Award winning performers
Tanya Khabarova (Ru/It) and Yael Karavan (Isr/U.K)
What are we made of? How many archetypes, memories and ancestors are moving within us and leading the choices we make in our life...?
With dance and physical theatre , Somnambules is a magical and evocative performance inspired by The 7 Deadly Sins, a voyage through our emotional spectrum, questioning once again what it mean nowadays to be human?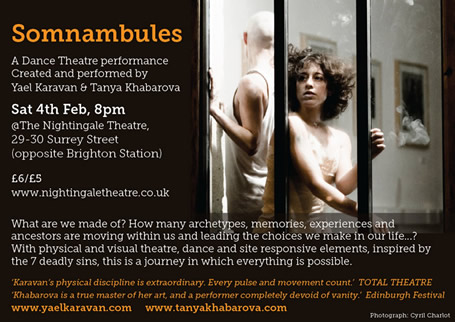 Award winning dancer & performers Tanya Khabarova and Yael Karavan have been collaborating artistically for over 10 years. They have worked together in the exceptional multiple awards winning company Derevo, of which Tanya is a founding member. They have now come together again to create a new version of Somnambules. -'We feel the need to react to a world on a breach of collapse, a life devoid of values where money and power have taken the place of conscience and sensitivity, where the individual is worth what he earns and where we are bombarded with external stimuli detaching us from the nature that surrounds us raping its resources and losing touch with our own souls and intuition. A world in which the Media and Television has become our new gods'
2011
Argus Angel Award winner
switch on switch off
we appear and disappear
revealing whispers from the past and stories from the present
suspended between light and darkness
a life
ride on
breathe in
its time to venture into the realms of human nature.
Illuminated by orphan lamps and stories gathered from Brighton households, Anima is a performance combining dance, physical theatre, live music, visual imagery and intimate encounters.
Supported by Arts Council England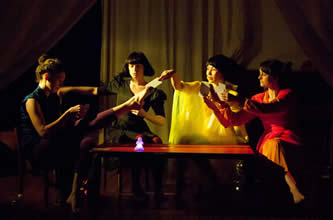 photos by Andy Towers & Claire Wearn
Press
'In Anima, Yael Karavan and her brilliant company of international performers, the Karavan Ensemble, invite you to leave the everyday behind and go with them on a journey, an exploration of light and dark in a "magical feast". -  The Argus
'This is undoubtedly another strikingly original production' Total Theatre

'Powerful and subtle, this piece from the Karavan Ensemble managed to convey through art a human experience not easily defined – transient and infinite like light! Magical.' - Latest 7

'The experience was carnivalesque, hypnotic, and derealised: a non-sequential trip through the human psyche. The phrase 'weird but wonderful' springs to mind, as Anima was precisely that'  The New Current

2010
The Karavan Ensemble has created a site specific performance at Chorus Room-1 of The Dome- Brighton, for In-Habit- in December 2010. In The Dressing Room the audience encounters performance artists from the past trapped in space and time and thus re-living the exciting moments of their exsistance being just before or just after a show.
created by Yael Karavan with Linda Remahl, Bruno Humberto, Tamar Daly, Rachel Champion, Marion Deprez & Sara Popowa. Music by Tristan Shorr.
-------------------------------------------------------------------------------------------------------
"…we arrived and watched an avant-garde dance in which women with the long gowns and opiated stares of Edgar Allan Poe heroines performed with a series of household lamps (…) Dreamlike as well as surreal, it suggested the sort of obsession that strikes in the small hours." The Guardian (press here for The full review)
With Linda Remahl, Bruno Humberto, Rachel Champion, Tamar Daly, Marion Deprez & Sara Popowa
Music by Tristan Shor.
Directed by Yael Karavan.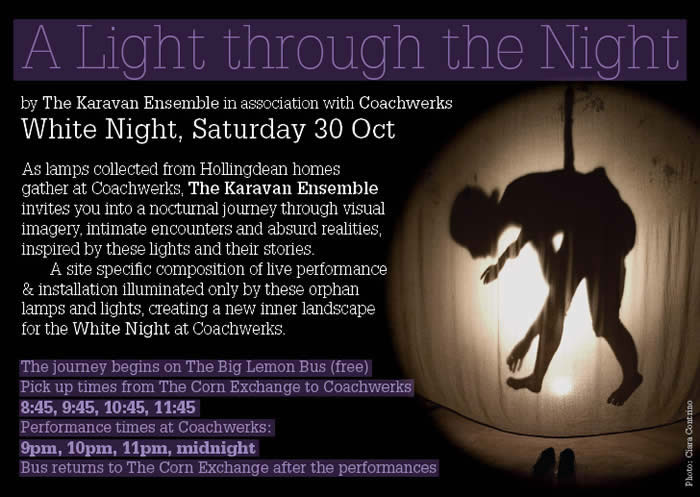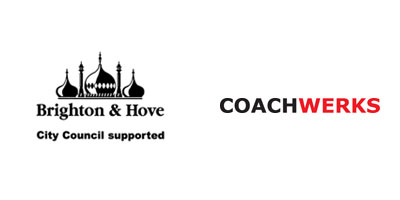 ---------------------------------------------------------------------------------------------
a site specific performance created by Yael Karavan
with The Karavan Ensemble- Linda Remahl, Bruno Humberto, Ana Fernandez M, Sofia Fernandez M, Rachel Champion, Pepa Ubera, Howard Sivills, Tamar Daly, Marion Deprez and Jo Donaghy with Special guest Renee Ansell @ Coachwerks
Supported by Arts Council England and Hollingdean Youth Trust.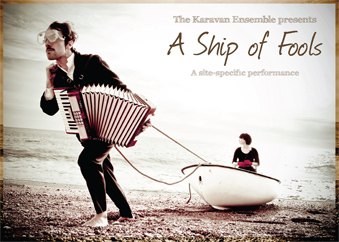 Open a door within and be taken by a unique unfolding Site Specific experience.
A journey through dance, physical theatre, music, installation and the realms of human nature.
Within each of us there sails a ship of fools. These fools represent the different traits that shape our personality. At any given time one of them may lead the boat; the lover, the thinker, the joker... This is a theme that I have been exploring through my dance research for many years, constantly asking 'who is dancing?' I have thus developed methods of finding these 'traits' through the use of character-based work, searching to enable these various fools within us to dance their stories, like a journey within our own archetypes.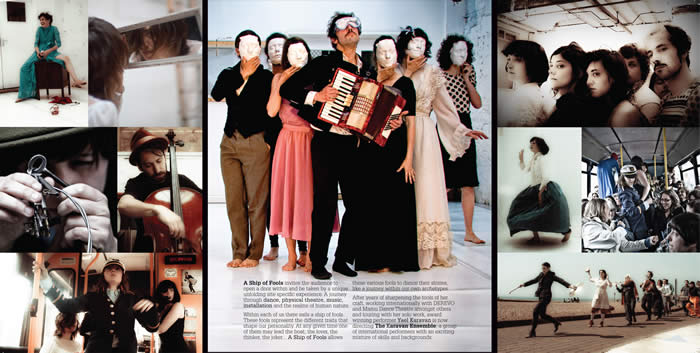 Photos by Javier Otero, Jason Wen and Paul Kondritz. Design by Sara Popowa.
PRESS
'A Ship of Fools is an unconventional, challenging, often magical show... and Karavan has made glorious fools of us all.' Fringe guru

'We are in a kind of dream world, an imagination space, a mood-space, an atmosphere where the fourth wall has fallen and yet is also strangely a kind of ghost haunting the experience... The fourth wall is tossed about on this sea of invention. It's full of heart, warmth and welcome.' The Fringe Review

'A Ship Of Fools is the brainchild of Israeli Yael Karavan. Herself a gifted clown whose every arched eyebrow and flared nostril as the black pen mustachioed 'Ceremony Of Masters' is spot on, Yael has gathered together an international band of actors, dancers and musicians whose credentials and commitment are impressive.' Latest 7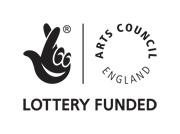 -------------------------------------------------------------------
A time based installation where Yael creates white masks from the audience faces through a ritualized sequence of gestures. She later uses this installation made of the audience face-masks as part of her performance.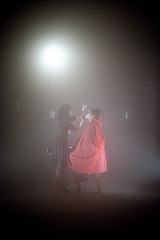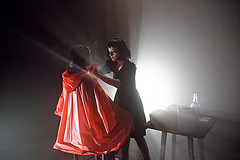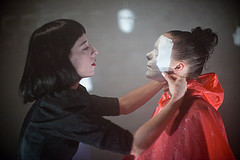 photos- Jason Wen
----------------------------------------------------------------------------------------------------------
In Between -long version - watch short video here!
45 minutes Dance / Theater performance
Created and performed by Yael Karavan
Light designed by Socrates Mitsios & Kristina Hjelm

Suspended between two Chairs, two realities, two lands, two lovers, the tragic and the comic, In-Between is a choreographic poem about the interior duality and the exterior solitude of a longing magician.
With elements of dance, physical theater, clown, mime, butoh, two chairs and a microphone, yael creates a fantastic universe and takes us into a journey through our own emotional tunells.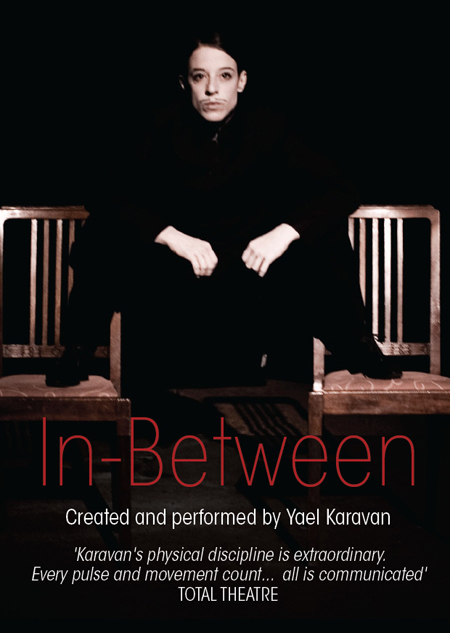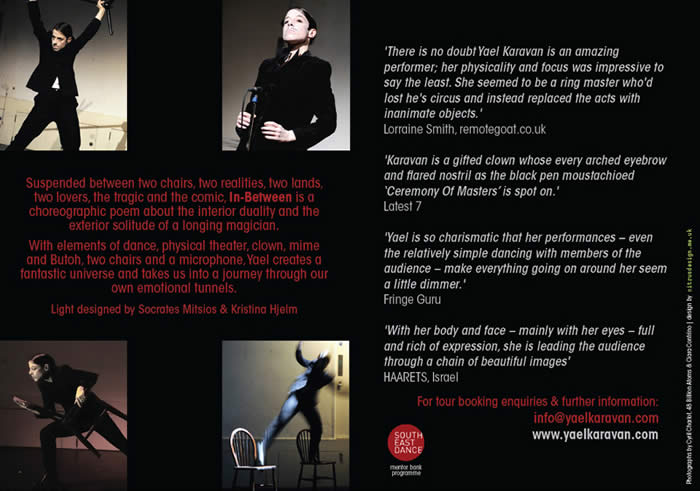 photo- Cyril Charlot

2009
solo/instalation by yael karavan
music by Roman Dubilnnikov
inspired by Lucretius writings De Natura Rarum
this piece is a journey into the invisible
let your eyes be fooled
let your mind rest
and let your heart fly.....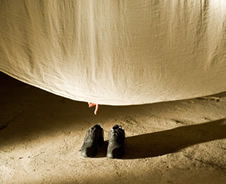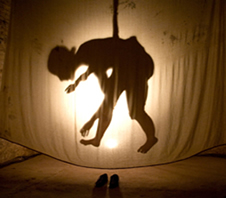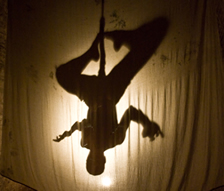 photos Chiara Contrino

-----------------------------------------------------------------------------
Alongside White
Yael Karavan and Linda Remahl started their artistic collaboration in 2003
Our work is exploring the boundaries between dance and performance, reality and dream, abstraction and simplicity with a poetic physical vocabulary.
This is a work in progress for our new duet.
Inspired by parallel pathways, shared thoughts and distant trails.
Created in at Coachwerks during a one week residency.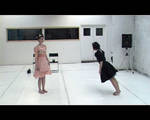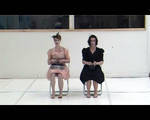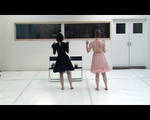 -----------------------------------------------------------
ADMETO
Admeto, re di Tessaglia, by George Frideric Handel
at the Festival Theatre, Edinburgh International Festival
& the International Handel Festival in Göttingen, Germany.

Directed by Doris Dörrie
Choreographed & danced by Tadashi Endo & the Mamu Dance Theatre
Conducted by NICHOLAS McGegan
'with sunny playing, striking design and some very appealing dancing...
Mamu Dance Theatre provides the other highlight. The Japanese style Butoh is associated with angst, but here it's downright cuddly. The dancers pop up as flirty ladies-in-waiting, scampering deer and adorable sheep...' The Independent


Photos Linus Fellbom
-------------------------------------------------------------------
[FR]
Géométries intérieures désordonnées 
Touchés par le travail de Francesca Woodman, photographe, et "La chambre claire" de Roland Barthes, dans leur questionnement sur l'identité humaine et ses représentions, Quatre artistes interrogent cet entre-deux de l'image fixe à une image mouvementée... dans le déplacement d'un médium à l'autre où l'image se révèle dans ce qui s'efface tout autant que dans ce qui apparaît.
Comment traverser le miroir? Est-il possible de se cacher pour mieux se révéler?
L'appareil photo nous offre des métaphores uniques (reflets, surfaces, enveloppes, transparence, luminosité) et nous propose des moyens de repenser les notions de temps et d'espace à partir du corps.  

« La photo de l'être disparu vient me toucher comme les rayons différés d'une étoile. Une sorte de lien ombilical relie le corps de la chose photographiée à mon regard : la lumière, quoique impalpable, est bien ici un milieu charnel, une peau que je partage avec celui ou celle qui a été photographié. »
                                 Roland Barthes, La Chambre Claire 


[EN]
disordered interior geometries
"In my imagination, the photograph represents the very subtle moment where I am neither subject nor object, but rather a subject which feels himself becoming an object: I live a micro-experience of death (of the parentheses): I become truly phantom." Roland Barthes, La Chambre Claire

CONTRE-IMAGE is a choreographic project that searches to translate metaphors coming from the medium of photography into dance. Created in collaboration with dancer/ choreographer Ephia, visual artist Céline Pierre and musician (bass player and composer) Benoît Cancoin This project is mainly inspired by the work of the young American photographer, Francesca Woodman and the essay 'La Chambre Claire' by Roland Barthes. Playing with the different layers of reality: the audience is taken in a journey to traverse these layers, to peel open the photograph. We play with tears, with what is missing and what is uncovered and suggest the serene violence of a fragmented body.
CONTRE-IMAGE has received the following residencies for its creation & development;
December 07- at the RAM DAM centre of choreographic research in Lyon run by Maguy Marin
February/March 08- at the Opera house of St. Etienne
June 08- in Nogent- sur- Seine at the Studio of video Artist Céline Pierre November 08 at the Atelier de Paris Caroline Carlson.
January 09 – at MICADANSE, dance centre in Paris supporting the creation of New Dance
February 09 – at the CCN (National Choreographic Centre) at Rillieux-la-Pape directed by Maguy Marin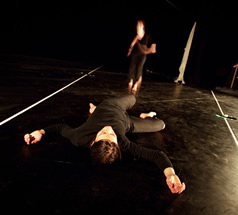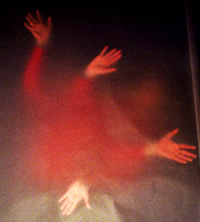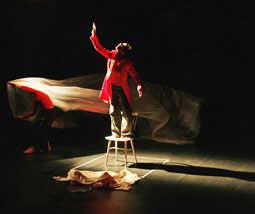 ----------------------------------------------------------------------
LOVE & TEARS
Improvisation Danse Butoh à paris
Le samedi 24 janvier 2009
Entre 16h et 22h
Au Vent se Lève

Danse: Atsushi Takenouchi, Nanami Koushou, Ippei Hosaka, Tombo, Jean-Daniel Fricker, Céline Angèle, Guillaume Cefelman et Yael Karavan

Musique
Hiroko Komiya, Lena Circus (Guillaume Arbonville; Nicolas Moulin, Antoine Letellier), Jean Dussin, Jean Bordé
et Claude Parle

Lights
Nadim Deaibes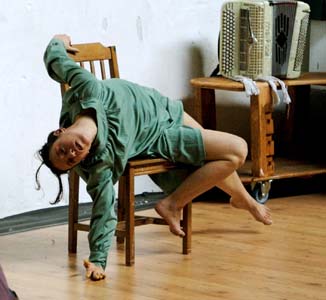 2008
'Falling'
a physical theatre/site specific performance/instalation in memory of Nagasaki August 1945 Commissioned by the Nagasaki prefecture museum for the opening of the retrospective exhibition by Dani Karavan
Created and performed by Yael Karavan,
Music by Tomo Japan
Falling, falling, gonna drop like a stone
I'm falling through the atmosphere on a warm afternoon
Your breath, my air
Fog lifts, I stare
I'm gone, but you're there.

Performed in November 08 in the Shunt Lounge, London
December 08 in Nagasaki prefecture Museum
October 09 at the Queen's Elm gallery- Chelsea, London
September 2010 Fresh from the oven Live@Coachwerks, Brighton.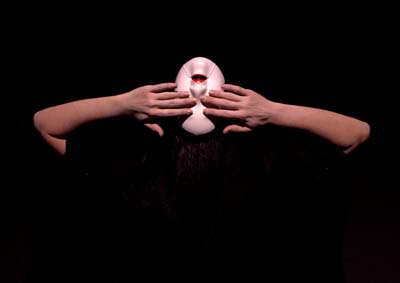 -------------------------------------------------------------------
SPECTHALIUM – The many moods of heart

Work in progress in collaboration with dancer designer Anat Zafrir of DandA
Specthalium is a multimedia dance performance, combining various disciplines of dance, performance and visual arts.

We are searching for a new style of interaction and inter-relations between a spatial design and the choreographed spatial movement, a new dialogue between the form and its content.
Specthalium is unveiling the many moods of heart.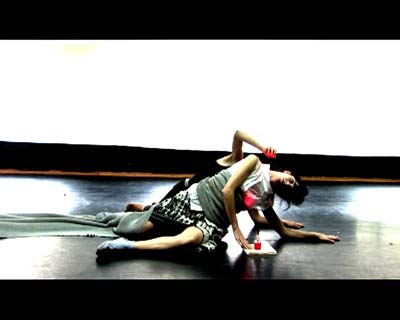 2007
KI ME RA - a Dance spectacle
Produced by: BUTOH CENTRUM MAMU, Göttingen/Germany
Tadashi Endo was inspired by his own memories of childhood and the film "DREAMS" by Akira Kurosawa, creating a dance spectacle.

Walking through the path of our lives, carrying an invisible burden on our backs, with each step the weight seams to grow, is it our soul? our life experience? memories or dreams?... we each carry our own chimera, through the journey called life.
Concept & Dance : Tadashi Endo & MAMU DANCE THEATRE
Fran Barbe, Yael Karavan, Yumino Seki.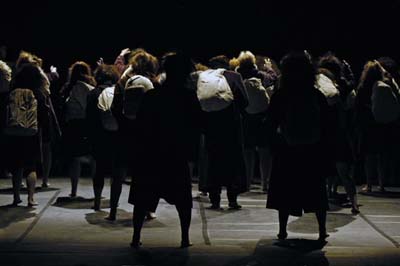 -------------------------------------------------------------------
ASSEMBLY-Part 1
Assembly Part-1 is a mysterious, dynamic, humorous and visually stunning Dance-theatre performance, inspired by ballroom dancing in Black & white with no facial expressions. Performance length- 50 min.
Performed at the Robin Howard Dance Theatre as part of RESOLUTION, London, at Atalate theatre in Gothenburg, Sweden & at 'Le Theatre des deux Rêves' in Paris.
Concept & Choreography by Linda Remahl
Directed by Yael Karavan & Linda Remahl
"When the dance becomes a kaleidoscope
6 women meet in a ball of reflections Where they compete with grace and elegance yearning to become the uncertain queens of a majestic mechanism.
As time passes their presence pierces the stage with black and white stars"

PRESS:
'Yael Karavan proved herself a charismatic entertainer in Solas Dance Company's Assembly part 1. Framed by oversize fairy lights in gaudy colors, Karavan blitzed through klezmer, gypsy and tango fiddle in a glorious parody of a ladies' night out. Backed by a chorus of deadpan cookie-cutter girls in a variety of garish outfits, Karavan's vaudeville clown stumbled into mimes of flirtation and femininity, insecure, questioning and sometimes melancholy. Albeit with little sense of progression, choreographer Linda Remahl explored rituals of womanhood, with a beautiful, bold and self-deprecating humor.' Lucy Ribchester- LONDON DANCE MAGAZINE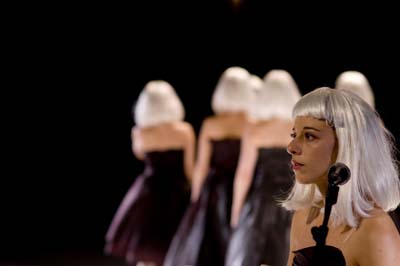 2006
HUMAN FOREST
A Site Specific performance in collaboration with 'J.A.M- Dance Company' and artistic director Yasu Ohashi for the official inauguration of Dani Karavan's sculpture site in Mouro, Narah- Japan.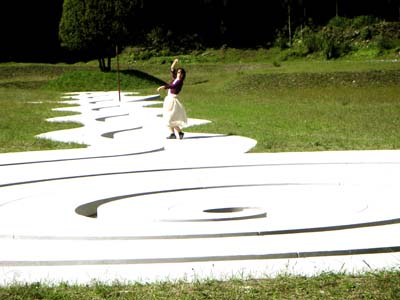 ------------------------------------------------------------------------------------------------------
SOMNAMBULES
Site specific performance created & performed by Yael Karavan & Tanya Khabarova At ESPACE KARAVAN in paris- October 2006

The audience is peeping through a windowed gallery into the private moments of a man and a woman searching for each other through their passions and dreams. (Inspired by the work of Bruno Schultz)
--------------------------------------------------------------------------------
The way Home

Winner of the 'TEATRONETO' one man show festival, Tel-Aviv 2006

'Transforming the concept of Home into the belly button of the world.'
solo performance 55mins
Created by Yael karavan and Naomi Silman
Performed by Yael Karavan

What is a home? What does it represent for us? And which forms does it take in our life? A home as a physical and material concept, as a feeling or as a metaphorical symbol, forever changing its representations during a lifetime.
The Way Home is an anachronistic voyage through three generations, within their cycles of life and death, searching for the fragile balance between the need to adapt and the lack of identity.
It is a journey through our internal landscapes, questioning the concept and meaning of a Home.The Way Home is a physical theater performance. The actor's work is in constant metamorphoses, using a rich physical vocabulary, various stage disciplines and beautiful visual imagery, from this process a mysterious, humorous, fragile and breath taking world is unveiled.

REVIEWS:
'An exceptional non-verbal theatrical experience which creates an inspiring, aesthetic, touching and precise physical language, the high professional level of the actress, and the natural way in which she has bridged between the physical and the textual parts of the performance, as well as the wide variation of characters that she enacted with much talent, all of the above have brought us to the prominent conviction that Yael Karavan deserves to receive the price of the TEATRONETO festival.' Jury of the TEATRONETO one-man-show festival
'The Way Home is exceptional and different in its character and quality, not only in the context of a one-man show festival. It is a total theatre performance, created mainly from visual imagery around the subject of femininity and the concept of Home. Yael Karavan, with her body and face - mainly with her eyes - full and rich of expression, is leading the audience through a chain of beautiful images and thus transforming the concept of Home into the belly button of the world.' Michael Handelzalts- 'HAARETS'

'The Way Home is an independent and original creation with astounding visual imagery… Especially breath taking are the opening and closing images of the piece...The creation of Yael Karavan and Naomi Silman is full of beauty, enriched by a magical lighting designed by Uri Rubinstein and a moving soundtrack mixed by Uri Frost.' Zvi Goren- 'HABAMA'(The Stage)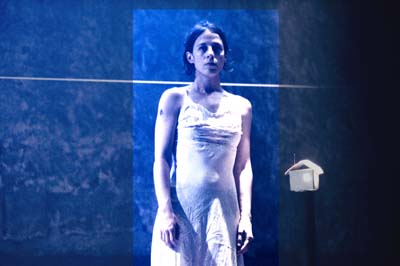 2004-5
FRAGMENTS FROM THE ARK
December 2005
Created and performed by Tanya Khabarova , Yael Karavan & Marco Di Stefano
A commission by Macherata Festival (italy)
Just before the rain a stream of air appeared in the atmosphere
As if time stood still
And all rational concepts and logics disappeared
Only a transitional sensation remained.
Time stopped
It stopped counting the downfalls of the past
And the rising heroes of the future Then a light premonition arose
'All which existed will continue to exist'
As a confirmation for the next to come
Exactly at this moment the sky expanded into an ocean
Where the unique essence lives its true moment
And where aspirations to rescue the world
Spills the ancestral experience
Into the everlasting rivers of being. T.K
An exiting and inspiring dance theatre performance, vibrant and poetic
Created by former members of Derevo Company
A multi ethnic and multi-disciplinary creation (Russia-Israel-Italy)
Full of energy, imagery and magic
Touching the wounds of our world with the benevolence of hope.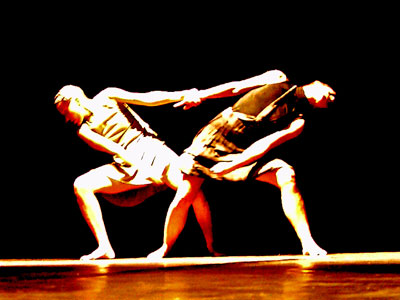 ------------------------------------------------------------------------------------------
NOCTURNAL THOUGTHTS
2005, at the Incontro Teatro Internazionale festival of Amandola, Italy
Solo performance created and performed by Yael Karavan
Inspired by the poetic biblical texts of the 'song of songs'
'At night in my bed
I searched for thee whom my heart longed for
I asked for thee
but found him not
I shall rise and wander in the town
Through the markets and the streets
I will search for thee whom my heart longed for
I will ask for the…'
canticles from the 'song of songs'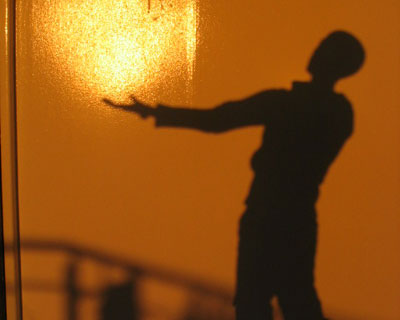 ----------------------------------------------------------------
TRAMPOLINA
Solo performance created and performed by Yael Karavan
Live music by Andre Sizintsiev
at the 'Vertical' festival in St. Petersburg, Russia 2004
'Again and again we are reborn.
It is not enough simply to be born of the mother's womb.
Many births are necessary.
Be reborn always and everywhere.
Again and again.'
Tatsumi Hijikata
A journey through the cycles of life In constant metamorphoses
Trampolina is born from a melting candle
Alone, she finds a branch of a tree and adopts it as a friend and a guide
Through oceans, landscapes and time
They travel...
During the Second World War, my mother's life was saved by escaping from Poland to the Siberian forests.
This performance is dedicated to her life journey.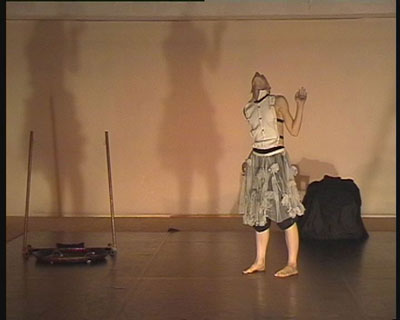 UP YOU GET
a video installation
ZOO
An absurd physical theatre performance
Created in 2004 at DEREVO laboratorium in Hellerau Festspielhause, Dresden- Germany
Created and performed by
Adam Read and Yael Karavan
In 2004 we've found ourselves in a ruined piece of history, a haunted organ of this world's memory, in the east of Germany, where we have created, lived and dreamt during 6 weeks…
From this process many parallel stories, worlds and atmospheres have revealed themselves, creating 35 short moments of various characters and moods which have emerged during this time.
ZOO Is a voyage through various styles of physical performance and dance.
It is the soft liquid one can find inside a vertebra, or between the articulations.
ZOO is a timeless journey through humans, animals, species, myths poetry and the absurd all living within 2 characters in a constant metamorphosis.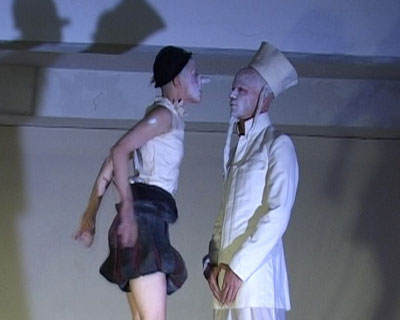 2003
WAY TO THE HIDEN GARDEN
July 2003
A site specific performance on the sculpture site of Dani Karavan in Sapporo
Commissioned by the Sapporo open air contemporary art museum in Japan
A collaboration with ADAPT- theatre picture collision
Choreographed by Yael Karavan
in collaboration with dancers: Shinichi momo Koga, Yuko Kaseki, Minako Seki, nils Willas, Sten Roudstrom and Special guest Tadashi Endo
Live Music by Qasim Qnaqvi and Shezad.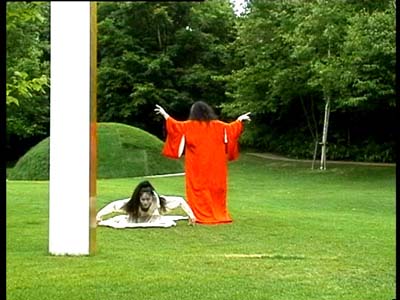 BERESHIT
'Site Specific' Performance in collaboration with Butoh dancer/choreographer; Tadashi Endo,
in the sculpture site of Dani Karavan at the Museum of Modern Art of Kagoshima- Japan. 2003
A rusted metal corridor expands from a mountain peak
Marked by splits of sunlight and thus creating a game between light and shadow.
A corridor of passage, a journey across time and space.
At the end of the corridor a glass window reveals a pastoral landscape and a never-ending sky.
We remain in a state of suspension.
On the glass there is an inscription, the first words of the Genesis (Bereshit) :
'In the beginning god created the sky and the earth'
Black and white, man and woman, a game of oppositions, the friction of creation.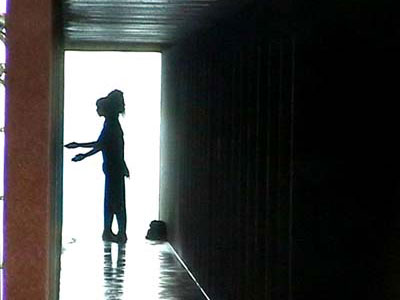 THE COLLECTOR 2003
Created by Marie Gabriele Roti in collaboration with Yael Karavan and Linda Remahl
Performed at the Robin Howard, The Place Dance Theatre- London
Funded by The British Arts Council
Music by Nick parkin
Light design by Karen Norris
Costumes by Lindsay John The collector takes its initial inspiration from the best-selling novel by John Fowles and research into the 19th century hysteria. Each performer inhabits their own demarcated installation space created through objects and projected film images. A fragmented journey through themes of confinement, freedom and divided selves sees the unfolding of a haunting interplay between character and space.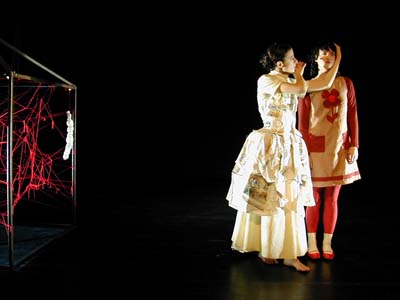 IN BETWEEN
(As part of 'Fleshmirror' event curated by Yael Karavan at 'the space' London in collaboration with Fran Barbe, Yumino Seki and Shane Irwin)
A Solo Performance created&performed by Yael Karavan in 2003 in London.
IN BETWEEN is a dance theatre performance.
Music - Sako
Lights - Socrates Mitsios

Suspended between two realities, two continents, two lovers, the tragic and the comic, In-Between is a choreographic poem about the interior duality and the exterior solitude of the human condition.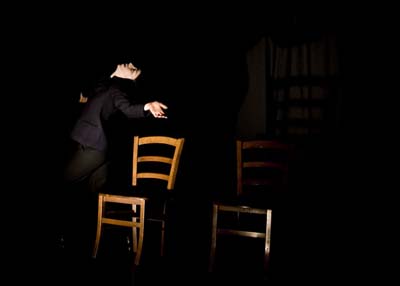 DYING LAUGHING
Duet with Shane Irwin as part of 'Fleshmirror' event 2003 London
Inspired by the poem of Rumi entitled 'Dying Laughing'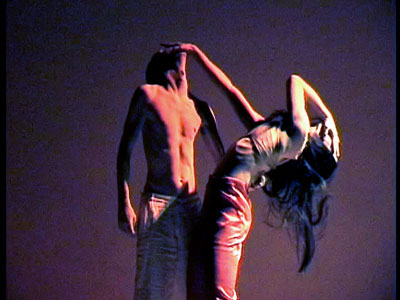 2002


TEST LABOR Z.0005
As member of Ten-Pen-Chi Company directed by Yumiko Yoshioka
Schloss Broellin/ Berlin- Germany 2002-03
Installation by Joachim Manger
The chimera of gene technique, a contrast between the aesthetics of movement based on butoh and contemporary themes, which Yoshioka relates to her search for basic feelings.
One of the most extravagant projects so far has been ´Test Laboratory Z.0005´, enclosing four dancers in a threatening 2.50 m high metallic machine. Hares, set free in the surroundings, activate one or another light-installation, which in turn activates mechanisms for opening or sealing enclosures. The body is hermetically caught then free to move in two water basins. Picturesque and metaphorical, TEST LABOR is a hard core dance/performance installation.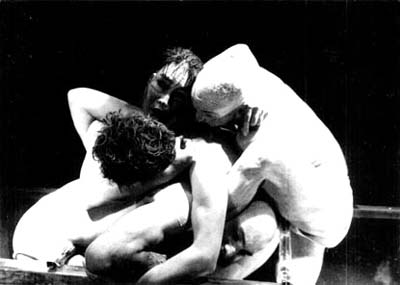 2001


MIGRATION 01
Göettingen-Germany 2000-03
As member of MAMU DANCE THEATRE directed by Tadashi Endo
' Their wings open wide
Two butterflies, glide
Across Manclmhuria
A vast open land, white as snow.
And the voice of lost loves
Calling back from the dead
Make echoes.'
By Waka Morinishi, Tadashi Endo's grandmother 
MAMU DANCE THEATRE was founded by Tadashi Endo in 1992. Alongside his own successful solo career, he wanted to work with European dancers using Japanese Butoh as the starting point, but encouraging each dancer to work from their own personal and cultural history to find new approaches to dance.
The three dancers in MIGRATION 01 originate from three different countries - Frances Barbe (Australia), Yael Karavan (Israel), and Yumino Seki (Japan) though they have all been based in London for many years.

1999-02
FROM THE EARTH - a memory
Solo Performance
Created and Performed by Yael Karavan 1999-2002 London/Japan 55mins
Lights- Socrates Mitsios
Scenography and costumes- Yael Karavan and Désirée Domec
FROM THE EARTH- a memory is a visual poem, between body and sculpture, with elements of Butoh, Dance and Physical Theatre, it was premiered in July 1999 at the Asbestos-Kan studio, the memorial theatre of Tatsumi Hijikata, founder of Butoh dance and was later performed in Brazil, London and Israel.

A song of the soul as it takes form from the earth.
A journey of creation, birth and becoming
Inspired by; nature, butoh dance and the eternal cycle of death and rebirth. 
"Dance when you are broken open.
Dance if you have torn the bondage off.
Dance in the middle of the fighting.
Dance in your blood.
Dance when you are perfectly free"
RUMI
Press
"With elements of Butoh and Dance, Karavan's physical discipline is extraordinary. Every pulse and movement count as she lets us into the intimate womb she inhabits. In this sensual piece… all is communicated" TOTAL THEATRE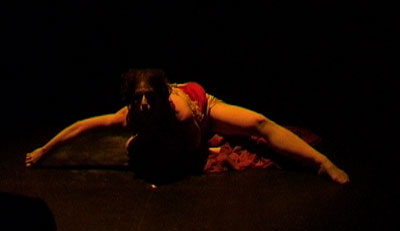 2000


a short B&W silent film
Boris & Blanche go for a pick nick
when suddenly love shows its possessive face...
a tragic comedy
created by Yael Karavan, Socrates Mitsios and Naomi Silman
filmed in Hampstead Heath- London in 2000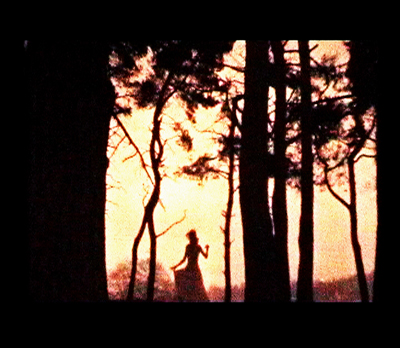 SPRING & TO LOVE
Commissioned by the Stoke Newington Festival –London 2000
Evenings for Lewis Carroll
At Les Voutes Paris 1999
A site specific performance for 7 dancers/performers